Free Infographics
A fun and useful overview from idea to launch of a Trampoline park
Running an entertainment business for kids and adults, which brings an incredible amount of fun for its visitors, might be a good business opportunity and even the best job in the world. Now when you have an idea, you might wonder how actually to start it?

Get our free useful and transparent, colorful and fun review of all the steps to launch your own Trampoline park.

Download, print it and put it on a wall, or use it on your smartphone as a checklist!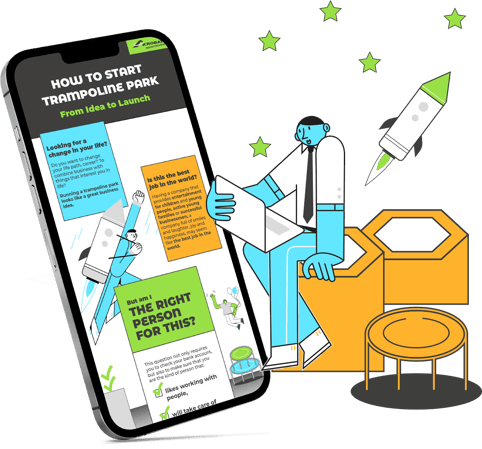 What will you find in our Infographics?
Am I the right person for the Trampoline park business?
An overview of the Preparation phase: from market research and business plan to legal aspects of this business
What the steps of the Implementation phase look like: from sending inquiry to production and Installation.
A quick reminder for the opening of the Trampoline Park.
Valuable tips from a reliable manufacturer of Trampoline parks will help you to save time and build your first Trampoline park in the right way.
Trampoline parks seem like the best job in the world
Having a company that provides entertainment for children and young people, active young families or successful businessmen, a company full of smiles and laughter, joy and happiness, may seem like the best job in the world.
Ready to start? Get our Infographics that will navigate you through all the phases and steps on a way to your first Trampoline park.
Frequently Asked Questions (FAQs)
Am I the right person for a Trampoline park business?
If you have an active lifestyle, adore adventures and fun, enjoy working with people, and also have good organizational skills, then starting a Trampoline park is the right choice for you. Besides a good business opportunity, you will find an interesting satisfying life job.

I want to open a Trampoline park, where should I start?
Trampoline parks are a lucrative business opportunity, and like any other business, to start with market research is a must. In that, you have to answer four main questions - who are your potentials, what are their needs, who are the competitors, and what profit can you expect. Well-done research will give you an idea of whether now is the right time and place to start a Trampoline park.
How do I attract visitors to my Trampoline park?
Trampoline parks are a popular and, therefore, competitive business, and If you want to stand out to your visitors and build a long-term relationship with them, a comprehensive marketing approach is what you need. For example, identify two main groups among visitors - one-time and permanent, and prepare package offers that may be of interest for the most popular occasions - team building, family or school events, as well as membership programs and organized training.
What is the advantage of this eBook?
Whit the experience from 2003 and working on dozens of projects, we have collected information that will help you on the path to building your own Trampoline park business - from the very first idea to the launch, as well as avoiding the most common mistakes.

On our website, you can find answers to other questions at all stages of your Trampoline park business.
Download this fun infographics for your smartphone or poster on the wall and get a checklist for your first Trampoline park!