Free eBook
A simple guide through Trampoline park modules!
Modern Trampoline parks are complex environments, creatively designed and made up of different Trampoline park modules from classic trampolines to advanced digital interactive elements. How to choose the best ones for your business and make a unique experience for your visitors? Learn the best practice - download our FREE eBook!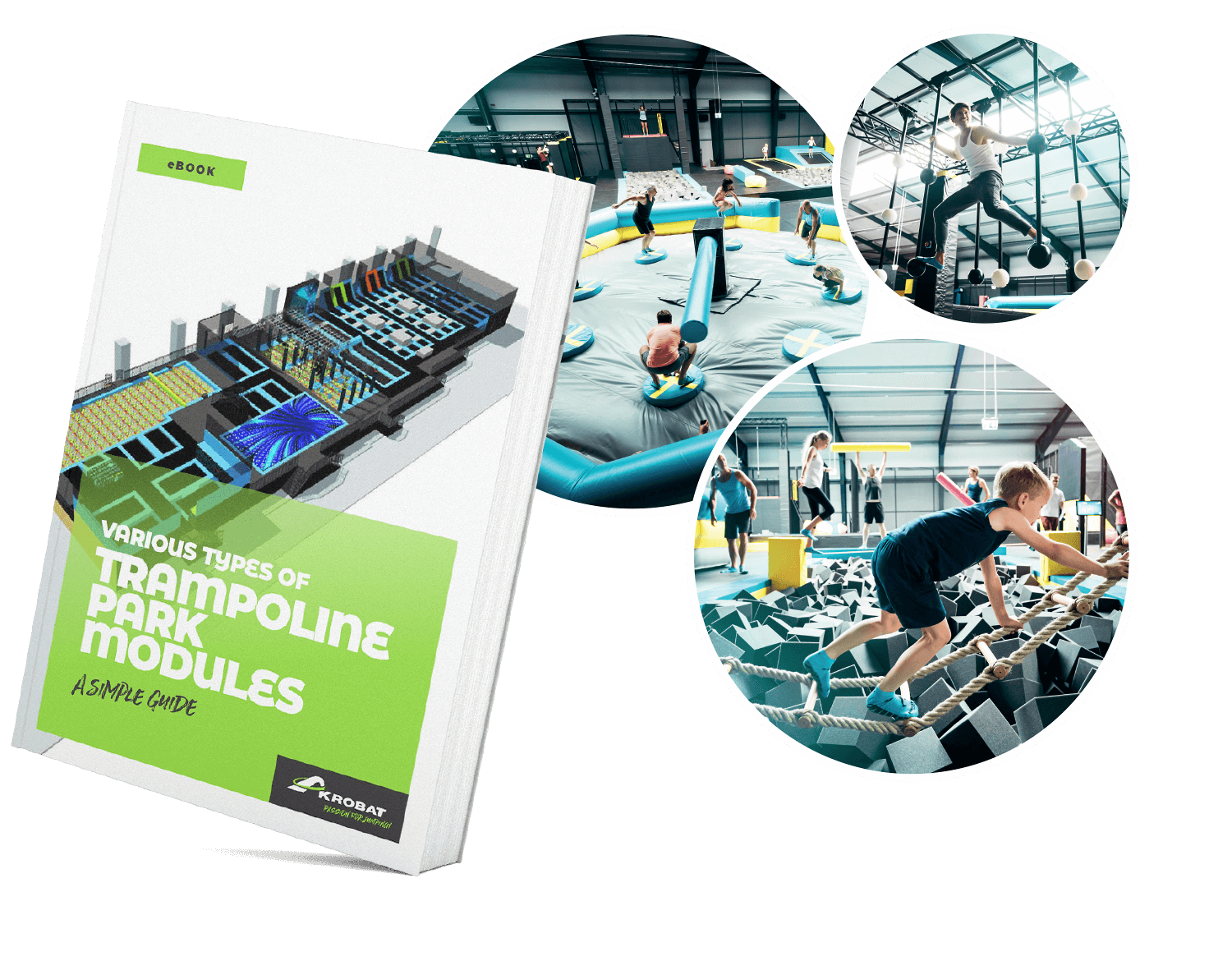 In our guide you will find
What to take into consideration

before choosing the modules

for your Trampoline park?



How to choose the right modules?
List and descriptions of most popular Trampoline park modules
Which modules are the best choice for your Trampoline park?

What kind of entertainment and exercise do they offer, and how can you combine various Trampoline park modules into a unique experience for your visitors?
Trampoline parks are becoming increasingly popular
Over the past decade, the popularity of Trampoline parks has increased; nowadays, we can find one in nearly every large city. For children and adults alike, jumping and playing on trampolines are a very fun and attractive activity, which is also a wonderful form of exercise and promotes health.
We present you this helpful guide with the most popular modules to design your Trampoline park!
Frequently Asked Questions (FAQs)
How to design my first Trampoline park?
Trampoline parks are no longer just a collection of trampolines. If you want your Trampoline park to attract a crowd, you must think up a creative concept with particular attention to its design. However, many other factors must be taken into account, such as the specific characteristics of your location, your target group...
It is certainly welcome that you put forward your ideas and suggestions, but the final design should be done by experts. They will make sure to satisfy your needs while designing a durable, high-quality, attractive, and safe trampoline park.
Does Trampoline park modules include other sport activities?
As the industry grows, "Traditional" trampoline jumping in Trampoline parks has developed into many other activities - group games and other exciting sports activities that can be performed on various types of Trampoline park modules such as climbing walls, ninja tracks, interactive walls, etc.

In our e-Book we present various modules you can add to your Trampoline park, that can allow your visitors to enjoy different sports, and explore or improve different disciplines still related to jumping on trampolines.
How to install a Trampoline park?
The installation of individual modules is done in various phases:
1. Frame installation of individual modules.
Based on your trampoline park equipment plan, the installation team begins with installing the steel frames of individual modules, like building with Lego bricks.
2. Installation of springs and jumping mats.
Springs and mats are the most used element in any trampoline park, so this phase of a high-quality and professional trampoline park installation is very important for the long-term use of trampolines.
3. Installation of safety pads and safety nets.
Safety is the most important factor in any trampoline park, so every trampoline park equipment plan includes safety elements, such as safety pads, safety nets, and wall protection.
4. Installation of non-jumping areas.
Building a trampoline park finishes with the installation of all non-jumping areas and additional elements that make the trampoline park even more exciting - attaching baskets and goals, filling pits with foam, installing digital technology elements, etc.

By choosing a top-quality trampoline park manufacturer you'll receive a full range of services and a package deal that includes trampoline park design, manufacture, transport, and installation.
How long does it take to build a Trampoline park?
The time frame of launching a trampoline park is usually adjusted to the client's needs and wishes, and the finances and security aspects of the trampoline park's location. On average, about 100 m2 is installed a day. This means that trampoline park installation takes 15 to 25 days, depending on the park's size and the difficulty of the modules.
Why choosing a reliable partner is important?
The reliable partner Akrobat will advise and help you with design and engineering, installation, global support, and maintenance, delivery of spare parts and consulting.

More than that the trampoline park installation will be quick, high-quality and professional, you will contact only to one person - your Akrobat advisor and so your park can be enjoyed by visitors the day after it is completed.
Is this eBook really free?
Yes. This eBook is free. From our experiences working with hundreds of clients, we gathered information that will shorten your journey and maybe help you avoid some common mistakes. You can find more information on our web page or in our blogs.
Download our SIMPLE GUIDE for FREE and choose Trampoline park modules wisely!